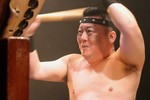 Yoichi Watanabe, (photo by Naokazu Oinuma) leader of Tokyo taiko group Amanojaku, is relating his life history and his thoughts on taiko to Isao Tokuhashi and me.
It is a project that has just begun. And a lot of work still awaits.
But it fascinates me for what it promises to deliver in understanding of a great artist, an important era of post-war Japanese creativity and the conceptual and spiritual backbone of modern music called taiko.
Yoichi Watanabe founded Amanojaku in 1987.
But his story _ one man's journey in taiko _ began in the late 1960s, when he was about 10 years old.
He lived through the pioneering years of Tokyo-style taiko, playing with Sukeroku Daiko, founded in 1959 as this city's first professional kumi-daiko troupe.
An excerpt from "The Autobiography of Yoichi Watanabe _ as told to Isao Tokuhashi and Yuri Kageyama":
To be honest, I am not sure anyone would want to read a book about my life.
Besides, 10 years from now, my thoughts are bound to have changed, and I would need to write another book.
But I've always wanted to write down a certain philosophy on life that I have arrived at over the years in my own small way.
There is such a thing in life as the correct path _ a "seido."
I am no different in having pursued what I thought was this correct path for me.
I have been doing it all my life.
I was in fourth grade when I decided I wanted to be a taiko drummer.
And I have never swerved from that path.
And it was just one path.
It was not an easy path, one filled with thorny bushes along the way.
But I have developed a way of looking at life through taiko.
And so this book is not a manual about how to play taiko.
Please look at a DVD or a read a manual textbook for that.
Everyone starts out with a dream, and then many people arrive at another way of life to make a living.
You may want to be a doctor or a pilot. But if you can't realize that dream, you may have to settle on a more realistic job.
We are supposedly in the worst crisis in a century.
People are all working hard.
Perhaps they would be encouraged to find I have never gone far astray from my path over all these years.
I don't have anything all that special to say.
It's very ordinary. It's no different from everyone else's dreams.
If you keep yourself open, then you will realize your goal in all its depth and breadth.
That kind of spirit has been lost, this spirit I have strived to pursue all my life.
It's human to seek the easy way, but I have stuck to the way even if it meant hardships.
If people tell me to go one way, then sometimes I question that and go counter-clockwise.
I have always been a rebel, an Amanojaku.